Accommodation - Formula 1, Valencia, Spain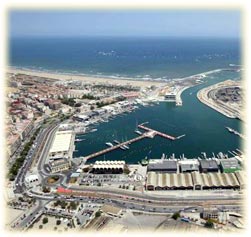 Formula 1 first hit the streets of Valencia in August 2008. The new circuit based around the Marina area at Port Americas Cup, Valencia, Spain is a fantastic backdrop to one of sports biggest prizes.
Taking over the mantle as The European Grand Prix, takes place in August around the Mediterranean port, which will again host the 33rd edition of the America's Cup in 2009 after one of the most succesful competition's in 2007 and will further emphasis Valencia's aim as a big player in hosting Worldwide events.
After agreeing to a 7 year deal with Bernie Ecclestone, it was announced in a press conference with Ecclestone, the Valencian government's president Francisco Camps and Valencia's mayor Rita Barbera.
The date for 2011 is 26th June.
Click here for accommodation availability for the European Grand Prix.
Picture taken from the roof terrace 24th August 2008