Apartment rental - Moto GP, Valencia, Spain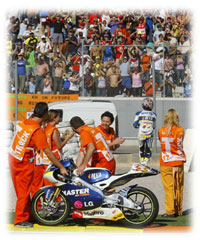 The apartment in Valencia is located in the premier Port Americas Cup area and is the perfect location for visiting the Moto GP at the Ricardo Tormo racing circuit at Cheste, approx 12 miles from the city of Valencia.
Travelling from Valencia to Cheste is a 30 minute train ride from the Norte station in Valencia. Train details found here.
Not to be confused with the new F1 circuit, which begins next year around the Americas Cup Port area.
Contact us for apartment accommodation availabilty for the Moto GP.